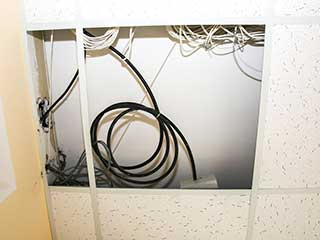 If you need some skilled electricians on a limited budget, Electrical Contractor Hollywood is here for you! We perform electrical installation and repair services of all kinds throughout LA County. Lighting installation, circuit breaker replacement, fire alarm services, the list goes on. If it involves electrical installation or maintenance, you've come to the right place for it!
Intro To Electrical Installation
Your building has a system of looping wires going through its walls and ceilings. These circuits spread out from the electrical panel, where the building connects to the power lines outside. Your electrical outlets, lights, and smoke detectors are all along the circuits. Most electrical installation work involves these systems, or the circuits and fuses themselves. A good electrician can find where the problem is, create extensions to power new features, and replace or circumvent trouble spots. Making sure your panel has working circuit breakers is another important electrical installation job. Since this work involves fire and shock hazards, it's best left to professionals only!
Electrical Lighting And Dimmers
Lights are unusual in one respect. They're some of the only electrical features you turn on and off daily using the building's wiring. Most other electrical devices plug into outlets, and you turn them on and off with their own controls. Lighting installation and even repairs requires electrical circuit adjustments. Putting in a new light switch or dimmer depends on the circuit routes and light fixture locations. These electrical installation projects are all part of our Hollywood electricians' practiced skill set.
Fire Detection And Warning Systems
The Los Angeles fire code requires smoke detectors and fire alarms. A house fire can quickly spread to nearby buildings, so the law takes this very seriously! Our electrical installation services include smoke detector and alarm testing, repair, and installation. On a related note, electrical circuits themselves can be fire hazards if the insulation strips away or a circuit breaker fails. Contact us if your building has sustained water or fire damage so we can check these safety systems and make any needed replacements.
Circuit Breakers And Electrical Panels
Are some of your lights or outlets are not working? If so, you may have a bad circuit or a problem with your electrical panel. It often takes the attention of professional electricians to locate the problem even before you can think about solving it! The electrical installation of new wiring is usually only needed after major disasters. Repair and maintenance operations are more common. They are some of the most frequent calls that our Hollywood electricians get! If you need electrical installation or repair services for your main infrastructure, get it taken care of right away! Otherwise, the situation can get dangerous!
Carbon Monoxide Detectors
If you have young children around or are planning to have them, carbon monoxide is a serious threat. Call our electricians, and they can provide some ultra-sensitive carbon monoxide detectors. Putting in some of these detectors is a very simple electrical installation job, but a very important one. Electrical Contractor Hollywood has years of experience with carbon monoxide detector installation and maintenance. We're happy to help you install it in any residence or business.
Hollywood's Best Electrical Installation Services
We take phone calls every day via our 24/7 service hotline. So get in touch with us whenever you need electrical installation or repair services. With a same-day service policy provided to all nearby LA County areas, we can help every local home or business with professional electrical services. Get a free estimate on different projects or emergency assistance any day of the week. Solve fuse problems and add new lighting, switches, and safety systems with our electrical installation services!